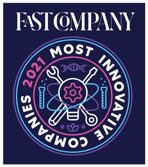 Fast Company recently published its list of the 10 most innovative workplace companies of 2021, which includes Asana, Zoom, Slack, and more.

The list is timely, considering demand for workplace innovation has never been higher. Leaders need to support new ways of working, and here's a shortlist of top technologies to help them.

These are the 10 to watch, but which will be your best strategic investments? Which will drive your business forward – and which will fizzle out?